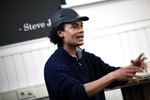 This site was initiated by Yao van den Heerik, and started in the summer of 2017 by scouring the internet and collecting as many news worthy articles, blog and projects about 3d clay printing that could be found. So far there is no other site dedicated to report and archive 3d clay printing related news, I hoped to fill that gap. It took a few more months to have that idea fully crystallized and shaped into a readable and searchable format. 3Dclayprinting.com was the obvious name.
Soon it became clear this could not be done by one person. After setting up de layout of the site other professionals in the 3d clay printing field were contacted and soon a small team of enthousiast formed to keep the site updated, and write about their own projects and research results.
At this time 6 Authors contribute :
Yao van den Heerik, Administrator and World reporter (for the time being).

Yao is Co-founder of VormVrij 3D, manufacturer of the LUTUM 3d clay printers Brand. Graduated from the Design Academy in '98 and after running a successful design business, he spend 10 years in West Africa for charity work at a Local NGO and worked as a tour guide in the tourist industry before directing his attention to the upcoming field of 3d Ceramics.
Tom Lauerman, USA correspondent.
Tom is an Assistant Professor teaching in the areas of Sculpture, New Media, Ceramics, and Foundations at Penn Sate University School of Visual Arts. Tom received an MFA from Cranbrook Academy of Art and a BFA from SMU Meadows School of Art. His work has been exhibited widely including recent exhibitions in Berlin, Detroit, Philadelphia, and Chicago. He works within the overlap of sculpture, craft, and design. His objects, drawings, and installations explore the emotional capacities of constructed spaces as a visual, tactile, and visceral experience. In the studio, Tom seeks to synthesize digital fabrication strategies and traditional craft techniques.
Bruno Figueiredo and Paulo Cruz, Portugal correspondents.

F Paulo is full Professor of Construction and Technology at the School of Architecture of the University of Minho, Guimarães Portugal. President of the International Association of Structures and Architecture. President of the Design Institute of Guimarães. Director of Landscapes, Heritage and Territory Laboratory R&D unit. Prof. Cruz bridges the gap between architecture and structural engineering, exploring innovative technological, constructional and structural solutions and establishing effective collaborations with the construction industry. Aims to explore the integration of digital additive manufacturing techniques in the architectural design and production processes of ceramic elements for building envelopes. 

Bruno is Assistant Professor at the School of Architecture of the University of Minho, his research is centred on the use of digital tools in architecture, encompassing the development of generative and analytical computational models and digital fabrication in architectural design processes, namely the implementation and control of additive manufacturing techniques. PhD in Construction and Technology (EAUM, 2016).
Kristin Andreassen, Sweden and Norway Correspondent.

Kristin is Associate Lecturer at the
Faculty of Technology, Art and Design
Department of Product Design of Oslo and Akershus University College of Applied Sciences (HiOA)
Marlieke Wijnakker, Printing Materials, glaze and clay reporter.

Marlieke is Co-founder of VormVrij 3D and Materials expert for 3D clay printing. Graduated from the Design Academy in '99 and After working several years at Witte de With Center for Contemporary Art in Rotterdam she worked as a tour operator/guide for a UK based tour agency  in Morocco after which se did charity work for a Local NGO in West Africa.
Are you interested to become an occasional or permanent correspondent about 3d clay printing for your Country? Do not hesitate and start writing your first contribution, but read this first!